When Beyoncé air-dropped her self-titled "visual" fifth album on iTunes, just before midnight December 13, she did her fans a great service. Releasing a complete thing – 14 songs and 17 videos – essentially freed Beyoncé from the manicure smudges of marketing and promotion. No magazine shoots or radio shills to deal with. No advance singles or Times Square billboard. She announced the record to her 8 million-plus followers on Instagram. The lack of PR push lets her focus on her current tour, or jet off to an exotic location to enjoy the Christmas holiday with her family.
Social media will pick up the slack.
As others have noted, Beyoncé knows her audience like she knows her best angles. They're clicking away in the digital wings, mastering her dance moves, flipping their hair, searching for vegan cupcake recipes.
There's more to the story, of course. Working with a phalanx of tight-lipped collaborators under the code name "Lily," Beyoncé, her label, and management kept the project a secret. According to Billboard, the record was finalized around Thanksgiving, to be released as an iTunes exclusive, with a physical release on December 21.
Beyoncé is a lot to consume in one sitting – countless megabytes of glossy high fashion, supermodels, Timbaland beats, appearances by Jay Z, Frank Ocean and Drake, a snippet of Star Search, even a TED talk. It's a binge and Miss Knowles knows it.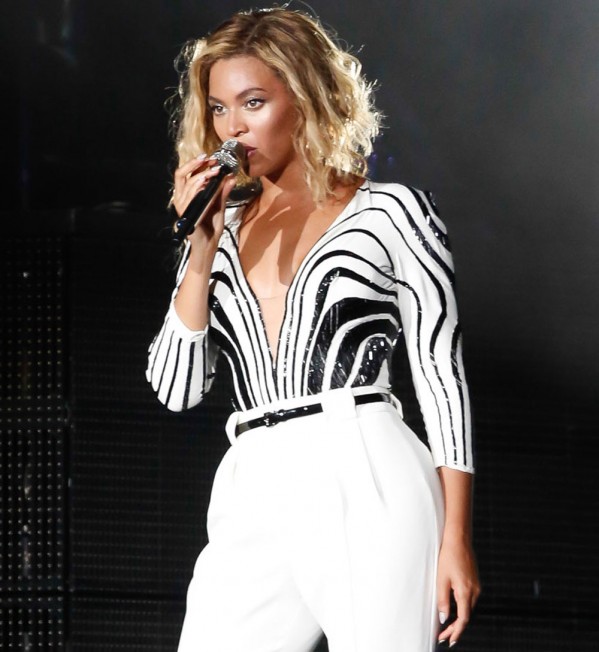 Consumers like to have it all at once: Side, main course and dessert on one plate, a veritable Hungry Man dinner of entertainment. Thanks to streaming services like Hulu and Netflix seven seasons of Buffy the Vampire Slayer are available to devour in one sitting. Not long ago, Netflix got smart about developing original programming and released full debut seasons of House of Cards and Orange Is the New Black. One benefit of the new model is how it allows early adopters to breeze through and set the conversation. Thanks to a high volume of material and the practicality of watching online – to take screenshots and create GIFS – a bunch of micro-conversations can take place at once, with time for others to catch up, share and re-blog, creating a long tail of meme-ability. Maybe listeners already get the references. Within days BuzzFeed listed 27 dogs who "woke up like this," after a lyric in "Flawless."
Beyond its sound – contemporary, sexy R&B for "grown women," as the singer touts – Beyoncé is defined by a dazzling array of visuals, particularly its fashions – another medium that's been holding up the conversation in recent weeks. Within hours of its release Vogue.com and The Cut, among others, highlighted Beyoncé's best looks. With seventeen videos though, it's practically a fashion magazine itself. The sleek clip for "Ghost," with sheer fabric silhouettes and a focus on toned bodies in motion, looks like a Nike ad viewed through the silky scrim of a Halston dress. "Haunted" is vampy horror-noir set in a seaside mansion, with close-ups on immaculate heels and marcelled hair. Some looks are more attainable than others, like a gauzy moonlight walk on the beach ("Drunk in Love") and throwback roller-skate jam (the Hype Williams-directed "Blow"). Granted not everyone is hanging out with Jay Z and Joan Smalls, but at the same time, once the trends are set they'll be available at the local H&M. There's something here for everyone.
So how does it feel to binge on Beyoncé? Kinda like a makeover montage in a romantic comedy.
After an hour or so my gangly self was scraping against the wall like Jourdan Dunn in "Yoncé," and shimmying along to Timbaland and Pharrell's "Blow" production. I felt like a more glamorous and outré version of myself. I confess, I had to hit pause a few times to make a sandwich and walk the dog, because I'm a regular person.
Beyoncé has a way of making everyone in her path feel average. This is not her fault. She works hard. Like most she's known heartbreak and failure, and when she needs a boost she talks to her laptop camera, or turns into the alter-ego "Sasha Fierce ." This info is public via her records, performance footage, and the self-produced HBO documentary, Life Is But a Dream. Another thing about Beyoncé: she goes to great lengths to archive her life on- and offstage for later pillaging. The girl has a lot of material.